New Delhi: The 48th A meeting of the Executive Committee of National Mission for Clean Ganga (NMCG) was held today under the chairmanship of G. Asok Kumar, Director General, National Mission for Clean Ganga (NMCG). Eight projects worth about Rs. 638 crowns were approved at the meeting.
To clean the Hindon River, a tributary of the Yamuna River, four projects worth Rs. 407.39 crore has been approved for pollution abatement in Shamli district. These projects are part of the overall Hindon Rejuvenation Plan. The Hindon River is identified as a Priority I polluted river section. The sanctioned projects are aimed at preventing the flow of polluted water into the Krishna River. Krishna is one of the main tributaries of Hindon which discharges pollution from Shamli district into Hindon river.
The four projects in Shamli district include i) construction of a 5 million liter per day (MLD) sewage treatment plant (Nirmal Jal Kendra), 5 KLD Septage Co-treatment Facility, Interception & Diversion (I&D) and other works in Babri and Bantikhera villages, ii) 5 MLD STP, 5 KLD Septage Co-treatment Facility, Interception & Diversion (I&D) and other works in Banátban city, iii) 40 MLD STP, 20 KLD Septage Co-Treatment Facility, Interception & Diversion (I&D) and other works at Shamli town and iv. other works in Thana Bhawan.
As part of preparations for the 2025 Mahakumbh in Prayagraj, Uttar Pradesh, the EC meeting also approved a project to develop 7 ghats in Prayagraj. The ghats include Dashashmedh Ghat, Quila Ghat, Naukayan Ghat, Gyan Ganga Ashram Ghat, Saraswati Ghat, Maheva Ghat and Rasulabad Ghat. These ghats have facilities like bathing area, changing room, universal access ramp, drinking water points, night lights, kiosks, landscaping etc.
In 48, two more canal management projects were approvedth EC meeting, one each in Bihar and Madhya Pradesh. In Bihar, projects for construction of 3 STPs (7 MLD, 3.5 MLD and 6 MLD in Zone 1 and 2) have been approved, among others, at an estimated cost of Rs. 77.39 million. These projects prevent polluted water from flowing into the Kiul River, a tributary of the Ganga.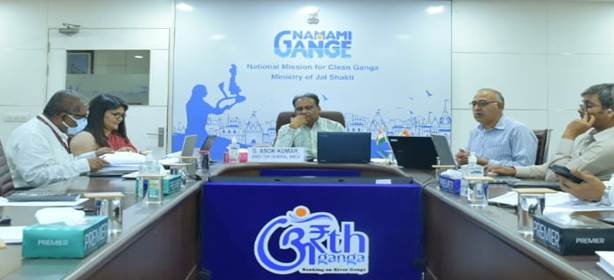 In Madhya Pradesh, a project for construction of 22 MLD STP, 2.38 MLD Common Effluent Treatment Plant (CETP) and other works has been approved at a cost of Rs. 92.78 million. This project will prevent the inflow of polluted water into the Kshipra river which is a tributary of Yamuna.
During the meeting, Shri G. Asok Kumar, Director General, NMCG, urged the state officials to carry out solar energy at STP sites and promote the use of solar energy in Nirmal Jal Kendras. He also asked officials to use grills to separate and dispose of solid waste from drains flowing into rivers. Pointing out that it is the responsibility of the state governments to maintain the facilities created under the Namami Gange Programme, DG NMCG said that the standard operating procedures (SOPs) adopted by ULBs for cleaning the existing ghats should be communicated to the NMCG.
Another ghat development project has been approved in Haridwar, Uttarakhand, where Akhand Param Dham ghat will be constructed at a total cost of Rs. 2.12 million. The project includes the construction of the shop/kiosk (a Ghat pe Haat activities), yoga/meditation lawn, disabled ramp, walkway, platform for cultural and religious activities etc.
The meeting was attended by Shri SP Vashishtha, Managing Director (Admin), NMCG, Shri Bhaskar Dasgupta, Managing Director (Finance), NMCG, Shri DP Mathuria, Managing Director (Technical), NMCG, Ms. Richa Misra, Joint Secretary and Financial Advisor, Water Management, Ministry of River Development and Ganga Rejuvenation, Ministry of Jal Shakti and senior officials of concerned states.
Also Read: PM Modi to address civil servants on April 21, confer awards